My Cart
0
item(s)
-
$0.00
There are no more items in your cart
Get a quote in only 3 steps!
1. Add the items you are interested in to your cart
2.Go to your cart
3.Click on GENERATE A QUOTE
Your quotations are available online on your customer account.
7-axis Franka Research 3 Robotic Arm + FCI licence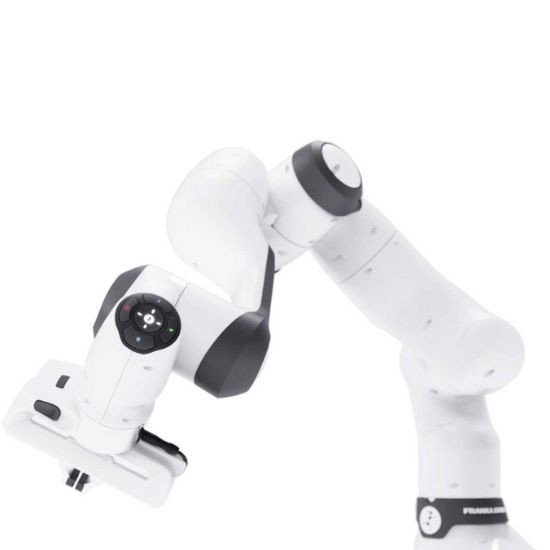 Franka Emika |
A-000000-05477
FR3 is a collaborative robot arm with 7 DOF, developed by FRANKA EMIKA. The robot designed for research and R&D allows its user to have a direct control and the possibility to program the robot, but also interface the robot with external sensors (ROS, ROS2, MoveIt! and Matlab packages available online).
Payment methods
(see T&C)
Presentation of the Franka Research 3 (FR3) robotic arm, by Franka Emika
A PARTICULARLY COMPLIANT COLLABORATIVE ROBOT
The Franka Research 3 (FR3) Robotic Arm has torque sensors in all its 7 axes for superior compliance, making it possible to stop the FR3 arm with merely a balloon.
These sensors also make it exceptionally accurate and stable.
The FR3 robot gripper (see Accessories) is capable of exerting a continuous gasping force of 70 N (and a maximum force of 140 N) and can lift up to 3 kg. The maximum width of the open gripper is 80 mm. Which allows this FRANKA EMIKA robotic arm to lift a wide variety of objects.
The team of engineers responsible for designing this robot wanted to create a dexterity and compliance as similar as possible to those of a human arm.
QUALITY MADE IN GERMANY
Franka Emika is a company based in Munich founded by the distinguished Professor Sami Haddadin, who is now head of the Department of Robotics and AI at the Technical University of Munich (TUM).
He has held research positions at the German Aerospace Center (DLR) and is the author of over 130 scientific publications. He has also received numerous awards and prizes for his work in the field of robotics and AI.
Users of the FR3 Robotic Arm, developed and produced in Germany by Franka Emika, will enjoy its German precision and cutting-edge technology.
EXTREMELY EASY TO USE AND INSTALL
Particularly simple to install and operate, you can get your FR3 robot up and running in just 15 minutes.
The robot's Desk interface can be accessed from just a web browser. Simply connect to the robot using an Ethernet cable to establish communication and you can begin controlling the FR3 arm. Its Desk interface is very intuitive and easy to use.
Desk interface for the Franka Emika FR3 robot
Franka Emika FR3 Robotic Arm apps
The FR3 Robotic Arm is designed to be both versatile and quick to master, so it can be easily used in a variety of very different environments, including:
E-Health
Laboratories
Universities
Etc.
The FR3 Robotic Arm is precise, supports C++ and ROS integration, is easy to use and is affordable, making it a popular choice for universities and research laboratories.
The Inria Rennes research centre chose the FRANKA EMIKA robot arm for its ViSP project, as part of a visual servoing SDK. They adapted a RealSense camera to a FRANKA EMIKA arm, which then used its gripper to follow a QR code printed on a sheet of paper moved around by a researcher at random.
You will find more information about ViSP along with the tutorial with the FRANKA EMIKA arm at the Inria ViSP website.
Students from the Imperial College London university have also carried out a project using the FRANKA EMIKA robot for their Technical Robotics Design module.
You will find all the documentation for this project, aimed at teaching the FRANKA EMIKA robot how to play chess, online here: DE3-ROB1 CHESS Group Documentation.
Three access levels to program and control the robot
DESK
Desk is the high-level interface of Franka Emika. It offers an easy-to-use option to create complete tasks in no time. Desk is the most suitable interface for rapid prototyping, simple human robot interaction studies and demos. No prior knowledge of programming is necessary.
RIDE
It enables researchers to fully integrate the Franka Emika system into experimental setups, and exploit its integrated high performance controllers. It is also a great tool for teaching introductory robotics. RIDE is your tool for writing custom Desk Apps and connecting external sensors and any other functionality to the system.
FCI
FCI is an acronym that stands for Franka Control Interface, a solution developed by Franka Emika that lets you control and program the Franka Research 3 robot in C++. The FCI also allows the integration of ROS and MoveIt!
FCI bypasses the robot's Control to let researchers run their own control algorithms in external real-time capable PCs at 1 kHz. It is the ideal interface to explore low-level planning and control schemes.
Franka Research 3 robot arm integration with another robotic platfom
Franka Research 3 Robotics robot arms can be set up on top of a Boxer mobile robot, with a ROS integration.
 
Technical specifications of the FR3 Robotic Arm by Franka Emika
Robotic arm
Degrees of freedom: 7 DOF
Maximum payload: 3 kg
Sensitivity: torque sensors in all axes (7)
Maximum reach: 855 mm
Rotation limits of each joint (°):

A1: -166/166
A2: -105/105
A3: -166/166
A4: -176/-7
A5: -165/165
A6: 25/265
A7: -175/175

Velocity limits of each joint (°/s):

A1: 150
A2: 150
A3: 150
A4: 150
A5: 301
A6: 301
A7: 301

Cartesian velocity limits: up to 2 m/s end effector speed
Repeatability: +/- 0.1 mm (ISO 9283)
Interfaces:

Ethernet (TCP/IP) for visual intuitive programming with Desk
Safety-rated input for external enabling device
2 configurable safety-rated inputs for emergency stop devices or safeguards
Hardware prepared for: 2x DI & 2x DO
Control connector
Connector for end effector

Mounting flange: DIN ISO 9409-1-A50
Installation position: upright
Weight: ~17.8 kg
Protection rating: IP40
Ambient temperature:

+15°C to 25°C (recommended)
+5°C to + 45°C (min/max, performance may be affected)
-10°C to + 60°C (transport)

Supported air humidity: 20% to 80% (non-condensing)
Control unit
Interfaces:
Ethernet (TCP/IP) (for internet or shop-floor connection)
Power connector IEC 60320 C14 (V-Lock)
Arm connector
Dimensions of the Control unit: 355 x 483 x 89 mm (W x L x H)
Supply voltage: 100–240 Vac
Mains frequency: 50-60 Hz
Power consumption: 80W
Active power factor correction (PFC): yes
Weight: ~7 kg
Protection rating: IP20
Ambient temperature:


+15°C to 25°C (recommended)
+5°C to + 45°C (min/max, performance may be affected)

Supported air humidity: 20% to 80% (non-condensing)
Hand
Parallel gripper: with exchangeable fingers
Grasping force:
Continuous force: 70 N
Maximum force: 140 N
Travel speed:
80 mm (50 mm/s per finger)
Weight: ~0.7 kg
Desk (control and programming interface)
The Robot Arm Franka Research 3 comes with:
1x Robot Arm Franka Research 3
1x Control system
FCI 3 for Research Serie
1x External Enabling Device
1x Emergency Stop Device
1x Power Cable Type F
1x Control Power Cable for EU
1x Franka Hand white (gripper)
1x Robot Connection Cable 2,5m
Resources for the FR3 Robotic Arm by Franka Emika
Customers who viewed this item also viewed